4 years ago today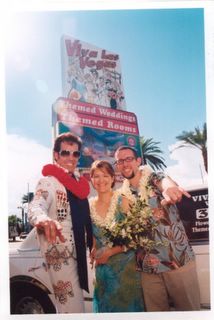 viva
las vegas
dave and i stood in front of our family, friends, a
travel channel
camera crew, a couple of hula dancers and, most importantly, Elvis, to declare our love to each other. such is love and marriage, vegas-style. it was really quite incredible, but i won't bore you with the details. all i will say is that if you have an appreciation for
blue hawaii
, Elvis tunes and vegas kitsch, you would've loved it.
somehow 4 years feels like 40 now that we have kids, but i wouldn't change a thing. okay, maybe i would've tried to get married
before
jack was born, though it was pretty awesome to have our own mini hawaiian shirted ringbearer in the family. heh.
happy anniversary, dave. i don't say it often enough, but you really are the best. i love you.